Wilhelm Josef Von Herman
Kanji

ヴィルヘルム・ヨーゼフ・フォン・へルマン

Alias

Graf Von Herman

Characteristics

Race

Demon

Gender

Male

Debuts

Manga Debut

Chapter 61

Portrayal

Japanese Voice

Hideaki Tezuka (CR Mahou Sensei Negima!)
Wilhelm Josef Von Herman (ヴィルヘルム・ヨーゼフ・フォン・へルマン Viruherumu Yōzefu Fon Heruman), otherwise known as Graf Von Herman, is the one of the antagonist of Mahou Sensei Negima! manga. He is one of the many demons who attacked Negi's village and the one who turned nearly everyone in the village to stone.
Appearance
Herman looks like an elderly gentleman with very courteous and refined manners although rather perverted as shown when he put Asuna in kinky lingerie upon capturing her. However, unsurpisingly, this is only a cover.
History
Six years before the beginning of the series, he and a squad of very powerful demons were ordered to destroy the village in Scotland where Negi was living. Hermann turned almost everyone into stone before being sealed into a magical bottle alongside three Slime Sisters who serves as his underlings. (It was later revealed that this attack was ordered by the Senate of Megalomesembria.)
Plot
Training/Wilhelm Arc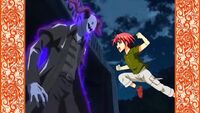 Herman and the Slime Sisters were freed by Fate and tasked to gather intelligence on Negi and his partners. They sneaked into Mahora Academy (the gigantic campus where Negi is teaching) and kidnapped almost all of Negi's pupils that were aware of his role as a mage, save for the most dangerous.
He used a magical necklace that expanded Asuna's magic cancelling power all around him, but Negi and Kotaro Inugami managed to defeated him. Yet Negi refused to seal him and allowed him to depart, despite knowing his role in the destruction of his village.
Trivia