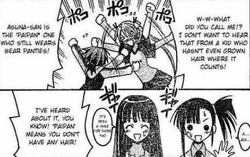 Paipan is a Japanese term that refers to a lack of pubic hair, usually in women and usually due to shaving.
The trend entered Japanese culture when the fetish of having completely shaved genitals overtook the western pornography industry and subsequently entered western mainstream fashion. However, the trend has had minimal impact on the Japanese fashion industry, and "paipan" remains a small fetish market, with correspondingly low sales and an accompanying inability to attract the sort of relatively attractive AV idols seen in mainstream works.
The a lack of enthusiasm for heavy shaving amongst Japanese women is largely due to the practice of genital shaving once being common amongst the harlots of the Edo period red-light districts. Since Japan has a well developed culture of public bathing, women who appear at onsen or public bathhouses heavily shaved may experience unwelcome attention from gossips, as the trend is still heavily associated with prostitutes and fetishism, and bemused children, who liken shaved genitalia to their own bald genitalia.
Gallery
Trivia
The term originated from the mahjong dragon tile of the same name; a completely white tile with no markings on either face.
While "Paipan" traditionally refers to an individual lacking pubic hair, this does not necessarily mean that the individual's hair was removed, it can also mean pre-pubescent or having naturally glabrous skin meaning that they never developed pubic hair despite entering puberty. As such the term can be considered an insult by teenagers who want to be more "grown up" and are insecure about their bodies as essentially the term is calling them a "baby".
While Paipan is a nitch fetish in typical pornography, the prevalence of hairless genitalia in 2D erotica is most likely due to the difficulty of drawing convincing pubic hair.
Community content is available under
CC-BY-SA
unless otherwise noted.