Master of the Gravekeeper's Palace

Characteristics

Race

Unknown

Gender

Female

Age

Unknown

Personal Status

Relative(s)

Negi Springfield (descendant)

Debuts

Manga Debut

Chapter 187

Anime Debut

Mō Hitotsu no Sekai OVA

Portrayal

Japanese Voice

Unknown (Mō Hitotsu no Sekai)
The Master of the Gravekeeper's Palace is a mysterious girl who was seen with Cosmo Entelecheia members.
Plots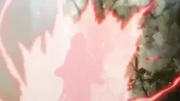 The Master of the Gravekeeper's Palace first appeared in Chapter 187 along with other Cosmo Entelecheia members, she is destroying the gateports when Ala Alba arrived on Mundus Magicus. The Master of the Gravekeeper's Palace reappeared during Ala Alba's assult of the Gravekeeper's Palace, when she revealed to Fate's Ministra Magi that she was the one who called Poyo Rainyday to stop Ala Alba[1]. After hearing that Negi had a plan to stop the collapse of Mundus Magicus The Master decided to "bet on the boy" and saved Negi's friends from Sextum by grabbing her core and immobilizing her.
Trivia
She is one of the most mysterious character in the franchise.
Her outfit in almost an exact replica of Dynamis, implying that they coud be related or belonging to a similar order of mages that could possibly be under the jurisdiction of Cosmo Entelecheia.
She was previously thought to be the mastermind or second-in-command of Cosmo Entelecheia's plan to 'reduce the world to nothing'. This has since been disproved[2].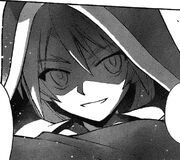 Her face bears a resemblance towards Asuna.
In the context in which Negi says that she is "Asuna's..." and "Mother's..." (chapter 314), it is possible that she is Asuna's mother and Negi's grandmother.
There's no explanation on what happened to her after the Mundus Magicus is saved.
She is one of only two characters in the animated series to not have her voice actress revealed.
References
↑ volume 33, chapter 295
↑ 'Betray? ... You wound me. I do not recall ever being your comrade' - volume 34, chapter 314
↑

Assumed, since 'descendant' conveys many generations separates them
Community content is available under
CC-BY-SA
unless otherwise noted.