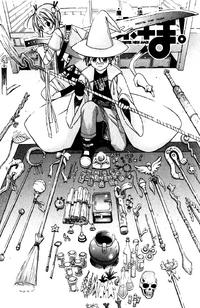 Staffs and magic wands are used to help the casting of magic, and can be considered as a kind of focal point. Staffs are necessary for beginners to cast magic although higher-level mages like Evageline and Negi can cast without one. Negi's staff is able to answer to his call and fly to him. He also uses it as a vehicle (much like a witch riding a broomstick), as it can fly at the speed of a car. Smaller training wands are also Negi's collection and are used in Evangeline's resort for students like Yue and Nodoka to practice basic magic. Negi carries a small wand for emergency use as well. In chapter 70, Konoka also carried a retractable wand with her. Negi's friend Anya utilizes a short cane with a curled knob on one end.
During the third day of the Mahora Festival, several thousand wands with simple incantation triggers were among the variety of weapons selectable by participants of the so-called "Mars Attacks Vs Mage Order" mock battle. These wands can be used by anyone and were made specifically to disable magically animated constructs such as golems and robots, while remaining harmless to humans.
Community content is available under
CC-BY-SA
unless otherwise noted.