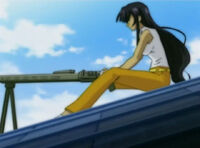 This GPMG was seen in the Negima!? anime being polished by Mana on a rooftop. Because of its German make (and the fact that such guns were used in World War II), Yūna became attracted it. But for no reason, however, Mana refused to let Yūna even touch it. Of the numerous guns Mana was seen polishing on, this was one of the only guns explicitly identified in the entire series at least by another character (i. e. Yūna).
Community content is available under
CC-BY-SA
unless otherwise noted.