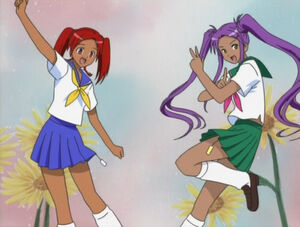 The Kogal (コギャル kogyaru) is a Japanese fashion that involves wearing an outfit based on a Japanese School Uniform, but with a shortened skirt, loose socks, and often dyed hair and scarf. The phenomenon was prominent in the mid-1990s, but has since declined from the onset of 2000. A mild "retro" revival in 2008 has seen the style return in the likes of Shibuya, Tokyo.
Aside from the pinned-up skirt and the loose socks, which define the fashion, kogals favor platform boots, makeup, and Burberry scarves. They may also dye their hair brown and get artificial suntans. They have a distinctive slang peppered with English words. They are often, but not necessarily, enrolled students.
Centers of Kogal culture include the Harajuku and Shibuya districts of Tokyo, in particular Shibuya's 109 Building. While critics condemned the kogal as shallow, materialistic, and devoted to conspicuous consumption, admirers describe them as, "kindhearted, active young women in exuberant health, the women of today."
Gallery
Trivia
Kogal is a contraction of the term "Kōkōsei gyaru" (High School Gal). It originated as a code used by disco bouncers to distinguish adults from minors.
The term is not used by the girls it refers to. They call themselves "Gyaru", a Japanese pronunciation of the English word "gal". The term was first popularized in 1972 by a television ad for a brand of jeans.
Pop singer Namie Amuro promoted the style.
Community content is available under
CC-BY-SA
unless otherwise noted.