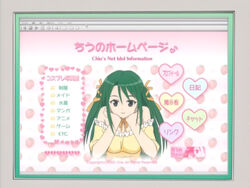 Chiu (ちう) is a famous Net Idol and the secret alter-ego of Chisame Hasegawa, who uses her cosplay and computer skills to further Chiu's career on the internet as a glamour model and blog writer.
Chiu's popularity is such that her site is regarded as one of the most visited websites in Japan and as such she has a big fanbase.
While she has tried to keep her alter-ego a secret from her class-mates, Chisame was unable to keep it from Negi Springfield. Other classmates also learn her identity soon after, such as Kazumi Asakura who used an image of her in a cosplay as Chiu as blackmail to help the class in the anime.
Gallery
Trivia
As a Net Idol, Chiu has her own website; Chiu's Net Idol Information, which was momentarily in competition with a website created by Class 2-A in the anime.
Chisame's image on her Pactio card is of herself dressed up as Chiu.
During the Mahora Academy School Festival's second day, Chisame was given an age regressing pill by Chachamaru and regressed to the age of a primary schooler. Taking advantage of this, Chisame took various pictures of herself in this form for her webpage and dubbed herself; "Chibi-chiu; Chiu's little sister".