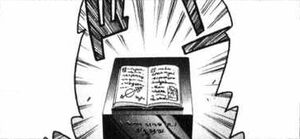 This is a book stored in the Library Island, it is said to have the powers to make people smart, just by holding it. The Five Baka-Rangers, along with Negi and Konoka, went on an expedition to find it, in order to avoid finishing last during the Second-Year Exams. Negi claims that it is a very powerful artifact, perhaps the Ultimate Spell Book, in which jacking up brainpower would simply be a warm-up. When being chased by the stone golem, (actually Headmaster Konoemon Konoe in disguise), the Baka-Rangers did claim that touching the book made them feel smarter, but it could be due to their studying for the exams.
Community content is available under
CC-BY-SA
unless otherwise noted.