Beatrix Monroe
Kanji

ベアトリクス・モンロー

Rōmaji

Beatorikusu Monrō

Characteristics

Gender

Female

Hair Color

Dark Blue

Eye Color

Brown-ish Orange

Debuts

Manga Debut

Chapter 211

Anime Debut

Mō Hitotsu no Sekai OVA

Portrayal

Japanese Voice

Kana Hanazawa
Beatrix Monroe
is a human who attends the magical academy in the city-state of
Ariadne
and is training to be a mage knight, and
Emily Sevensheep
's partner.
Story
After beating a Griffin dragon with Emily, Yue Ayase and Collet Farandole, the four went to Ostia as representatives for Ariadne. Beatrix is one of the 67 million residents of the Magical World who is pure human derived from Megalomesembria (and hence can be saved by Kurt Godel's plan), as seen when her magic is able to do damage to the demons that attacked Negi's crew during the party held by Godel.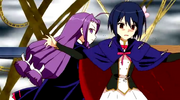 She escaped the ball with Yue and Collette and went on to assist Ala Alba in their efforts to defeat Cosmo Entelechia. She was petrified along with Yuna Akashi and Sayo Aisaka while trying to protect Yue in chapter 310 but she returned to normal in chapter 335.
Abilites
As a student of Ariadne, she was in the 'Mage Knight' class with her friend and lady-mistress, Emily Sevensheep and was trained in swordsmanship and cavalry combat utlizing broomsticks. She displayed use of ice magic during the Battle at the Megalomesembria Ball.
Swordscraft/Swordsmanship
Broomstick Riding
Ice Magic - she used an ice spell to reinforce her Ariadne Greatsword at the Megalosembria Ball when Cosmo Entelechia's magical minions attacked.
Appearance in Other Media
ANIME FINAL
Beatrix appears in the Anime Final movie, tried to using magic to prevent the Mars to crash toward the Earth along with Anya and the other mages. After the Earth and Mars fused together, Beatrix having shopping with Emily and Collette in the new fused world, and they meet Yue to said how good this new world is.
Community content is available under
CC-BY-SA
unless otherwise noted.